Tracking your job search is incredibly important to succeeding. I try to avoid sending people to this page without attempting to convince them first, so if you're curious why this matters, please get in touch with me and I'd be happy to share why.
I made this tracker when I was raising venture capital for a startup in 2014, modified it for my own job search in 2016, and have shared it with dozens of people since then.
Here's my job tracker spreadsheet: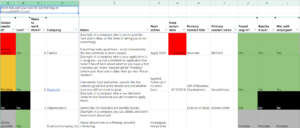 Please make a copy of it and make it your own! If you have any feedback on how to improve it, I'd be happy to modify it to help out the other people who use it in the future.